TO ENSURE THE BEST EXPERIENCE OUR SHOWROOM IS OPEN BY APPOINTMENT
BOOK YOUR VISIT HERE ON OUR WEBSITE OR CALL 01229 871122
YOUR TRUSTED LOCAL KITCHEN & BEDROOM SPECIALISTS
FOR A DESIGN APPOINTMENT OR SHOWROOM VIEWING PLEASE BOOK IN ADVANCE
Mike Hughes Fitted Interiors are Barrow In Furness and Cumbria's leading bespoke kitchen and bedroom experts. Discover stunning interiors brought to life by our own professional team.
Bringing Stunning Kitchens & Bedrooms to Barrow for over 36 Years
Mike Hughes Fitted Interiors are Barrow's leading family-run kitchen and bedroom experts. We specialise in designing and installing exceptional interiors for thousands of delighted clients across Furness and South Lakes that suit you and your home. With over 36 years' experience in the kitchen and bedroom industry, our knowledge of interiors is simply unrivalled. Since 1987, we have been firmly dedicated to perfecting and enhancing our service and with our director Mike Hughes at the helm, we have carefully chosen a range of superb quality products from leading suppliers and manufacturers, as well as growing a skillful team with much knowledge and expertise.
Browse Our Beautiful Kitchens & Bedrooms
Whether you're looking for a cutting-edge kitchen or a luxurious relaxing bedroom, we have a stunning variety of elegant classic and stylish modern designs to choose from. Explore some of our beautiful collections for yourself by browsing our gallery below...
Interiors Crafted Around You
As a family-run company, we pride ourselves on offering a trustworthy, friendly and professional service to all our customers. In fact, our outstanding service has even earned us awards. At Mike Hughes Fitted Interiors, every member of our team genuinely cares about your project, nothing is more rewarding for us than seeing our customers delighted with their new design. We go above and beyond to achieve your vision, maximise your space and make sure every detail is perfect for you and your South Lakes home.
We first like to invite our customers to explore our wonderful showroom; experiencing our variety of quality products will give you an introduction to the amazing possibilities of your space. During a design appointment, a member of our team will guide you through your choices and give you undisturbed time to discuss your project. They take the time to understand your requirements before crafting a beautiful bespoke detailed design creating a new concept for your home. We provide outstanding support throughout your journey, ensuring you feel comfortable at each step of the way. Our designers will go the extra mile to make sure your bespoke interior is perfect for you, please just ask our friendly and knowledgable team.
An Exceptional Collection Of Kitchen Styles to Choose From
The Kitchen is undeniably the heart of the home, a multipurpose room for all the family. From relaxing over coffee with friends to enjoying your family meals. We consider your technology lifestyle, your family members and your pets to create a design that captures your personality and reflects the things you love.
Our contemporary kitchen styles are ideal for those who want to create a sleek and minimal look to their space, while our traditional ranges establish a beautiful and elegant character to your home. We work with four carefully selected kitchen manufacturers, Keller, Laura Ashley, Milano and Callerton so that there really is something for everyone. Find out more about our stunning range of kitchen designs by clicking below.
A Reputation For Excellence
At Mike Hughes Fitted Interiors, we appreciate that choosing to redesign your kitchen or bedroom is a big decision and that finding someone to entrust with your home can understandably feel daunting. Not only do we have over 36 years' experience in designing and installing exceptional interiors for clients across the South Lakes, but we are also accredited members of the KBSA and the SBID. These associations demand we follow a strict code of conduct in order to retain our membership and this ensures we always meet the highest standards of quality and service.
Over our 36 years (and counting!) in the industry, we have won numerous awards for customer service and design and have earned an outstanding reputation for excellence with our clients across the South Lakes. As a family-run company, we take great pride in our reputation and are absolutely committed to providing our customers with the best levels of service. When you work with Mike Hughes Fitted Interiors you can have complete confidence that your home is in safe and trustworthy hands.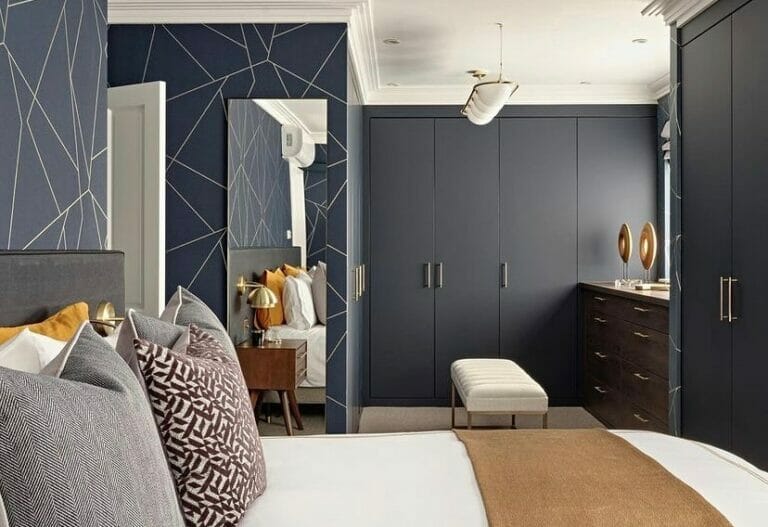 Stunning Fitted Bedrooms in Barrow In Furness
Your bedroom is your escape, when you close the door you should be able to relax and unwind in a space that's completely personal to you. At Mike Hughes Fitted Interiors, we've been working with award-winning British manufacturers Daval for over 25 years. Their exceptional luxurious quality furniture comes in a range of gorgeous colours and finishes as well as beautiful modern and traditional styles which allows us to create bedroom and dressing room interiors that are perfectly suited to your taste. Our bespoke made-to-order designs are the best way to maximise your space and layout to establish a stunning clutter-free and elegant interior. Our outstanding Daval bedrooms create the perfect harmony between exquisite style and superb practicality. Discover more about our luxurious bedrooms by clicking below.
Our Approach To Sustainability
We are Green Small Business certified, meaning we take our environmental responsibilities seriously. We choose who we partner with carefully, ensuring they share our commitment to operating sustainability. Keller Kitchens employ a certified carbon-neutral manufacturing process, generating energy from solar panels and biomass boilers and using eco-friendly transportation. Milano, Laura Ashley, and Daval have also invested in biomass boilers, which allows them to convert offcuts and waste into the energy needed to fuel their sites. They all use responsibly sourced, FSC-certified timber and utilise recycled materials wherever possible. You can find more information about how our partners are addressing sustainability by downloading their brochure.
Furthermore, as a certified Green Small Business, we are committed to minimising our own environmental impact and have taken several steps to do so, including disposing of waste responsibly and opening our showroom by appointment to reduce energy consumption. We also offer expert advice on improving the efficiency of your new kitchen or bedroom and can recommend a range of energy-saving lighting and home appliances. Investing in a beautiful new home interior shouldn't mean compromising your values.
VISIT OUR Barrow Kitchen SHOWROOM
Whether you already have a vision for your space or you are just beginning to consider your options, our beautiful showroom is the perfect place to start. Based on the busy A590 approach to Barrow-in-Furness, in an industrial unit, you will find the Mike Hughes Fitted Interior showroom opens up to two floors of stunning kitchen and fitted bedroom roomsets. Marvel over the latest high-tech appliances or lose yourself in our sample area as you discover an extraordinary array of exquisite surface finishes and worktops to compare.
Visiting our showroom is the best way to appreciate the quality and immaculate finish of our interiors as well as finding fantastic inspiration for your project. During your visit our expert team will be delighted to give you a warm welcome, answering your questions and discussing your space or allowing you to browse our displays at your leisure should you wish.